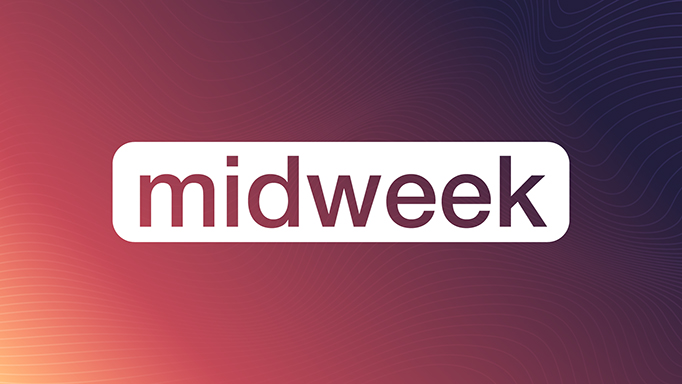 Join us on Wednesdays for Sagemont Midweek! We have a variety of classes and activities for you and your family to enrich your lives and to grow spiritually. Unless noted otherwise, all options are 6:30pm - 8:00pm Wednesday nights, August 25 - December 15, 2021. Choose from the following:
---
Bible 101
Develop your skills in studying God's Word and dive into an inductive Bible study where God Himself becomes the teacher. Studying the Bible book-by-book and verse-by-verse will show you how to recognize key words and concepts. Discover the main point of any passage of Scripture, discern God's purpose, and apply life-changing truths to everyday life. This class meets in Room WC1125. August 25 - October 13.
---
Church History: Total Recall
On Wednesday, October 13, we will begin a BRAND NEW study called "Church History: Total Recall"! To study history is to trace the finger of God across the timeline of human history. Taught by Wayne Hanks, the fall session will focus on the history of the church from the time of Christ to the start of the Reformation (1517). The focus of the spring session will be from the Reformation (1517) to the present. We will meet each Wednesday evening, October 13-December 15, from 6:30pm to 8:00pm in Room WC1319 (North Wing).
For more information, contact Wayne Hanks at . We hope to see you there!
---
Financial Peace University
Take control of your money with Financial Peace University! This nine-lesson class uses biblical wisdom and common sense to help you tackle budgeting, pay off debt, and make your money work for you! Sign up for this class and start your 14-day free trial of Financial Peace. Facilitated by Luke Wilbanks and Will & Elisabeth Nipper. September 8 - November 3. Room WC1320.
---
The Freedom Fight
This group is for men (18+) who may struggle with pornography, who want to become equipped to help others find freedom or want to hear more about the reality of pornography and how it affects the church. The class will meet in Room WC1312. Livestream is available HERE. For more information, please call the Counseling Center at 281.481.7133.
---
Kids Midweek
Kids, Kindergarten - 5th Grade, are invited to join us this fall for a fun-filled evening of worship, Bible study, games, snacks, and fellowship! There is no charge, and friends are welcome! Wednesday night childcare is available for children, birth through Pre-K 4.
---
Life Support
This support group is for anyone facing personal, relational, emotional, and spiritual challenges as you seek to live the authentic Christian life. Meets 7:15pm - 8:15pm in Room WC 1317. Register with Rhonda Brown in the Counseling Center: 281.481.7133 or .
---
Men's Stepping Up Bible Study
Dig deeper into what it means to step up and live a courageous life with the Stepping Up® Video Series. Based on his book by the same title, Dennis Rainey unpacks what biblical manhood looks like and what it means to be a godly, courageous man in today's world. This is a call for every man to become a leader in their own life through engaging stories, teachings, interviews, and personal insights. Accompanied by small-group discussions and individual follow-up exercises. Men of every age will learn action tools for gospel-centered living to empower them to be true heroes in their families and communities. September 29 - December 8. Room WC1312.
---
Right Step
A Christ-centered 12-step program for those recovering from or affected by chemical dependency. If you are struggling with compulsive use of alcohol, drugs or other forms of substances, this support group will provide encouragement, strength and hope for lasting sobriety. This group meets every Monday and Wednesday, 7:30pm-9:00pm in the Sagemont Church Annex - Parlor Room.
---
Sign Language Classes
Learn American Sign Language or improve your skills in these classes that are available in beginning, intermediate, and advanced levels. No registration required. Room WC1115.
---
Spanish Bible Studies
Estudio Biblico de Mujeres
"Una vida Mejor" - El libro escrito por Christy Muller invita a los lectores a tomar un camino hacia la sanidad emocional y la madurez espiritual. A través de estudios profundos y principios bíblicos, este libro es una extraordinaria herramienta que te permitirá evaluar tu propia vida y te guiará paso a paso para que puedas crear una vida mejor con tu obediencia. Salón WC1123.
Estudio Biblico de Varones
"Mi experiencia con Dios" de Henry Blackaby & Claude King Dios le está invitando para que usted comience a tener una estrecha relación con Él mediante la cual le hará conocer Su voluntad y lo que Él está haciendo. Los principios bíblicos utilizados por el autor le ayudaran a entender la manera en la que Dios le puede enseñar a ajustar su vida a Él y conocer Su voluntad. Salón WC1121.
Sin Filtro

En el semestre de Otoño, Sin Filtro, continuará con la Unidad I: Fundamentos de la Fe y entraremos a la Unidad II: Cómo compartir de Cristo. El libro que estamos utilizando es Estudios Bíblicos para la Vida Volumen I para jóvenes. La idea principal de estos estudios es aprender para que fuimos creados, vivir en relación con Dios y ser reflejos de su carácter y bondad. Reconocer que el pecado nos aleja de este propósito y de Dios mismo. Saber que Dios, a través de Jesús, nos dejó el modelo perfecto para compartir el evangelio y poder experimentar lo que Dios desea de su pueblo. Cuando experimentamos una relación con Dios la compartimos para que otros puedan conocer el amor de Dios, nuestro propósito y misión es compartir el evangelio. Salón 230.
---
Students
All students, 6th – 12th Grades, are invited to hangout together in the Gym, then worship together from 6:30pm to 8:00pm. Snacks are available for purchase.
---
Wednesday in the Word

Join Pastor Stuart Rothberg as he examines and teaches various topics and books of the Bible. Meets in room WC1113 (Chapel). Wednesday in the Word will be live-streamed weekly on our website as well as Facebook and YouTube.
---
Women's Midweek

A study of Psalm 40 by Sarah Mae. When life hits hard and you aren't sure what to do, it can be confusing, lonely, and seemingly hopeless. Psalm 40 is the good news that God hears our cries and delights to rescue us. In this Psalm you will learn how to ask honest questions of yourself and the Bible and learn how to stay faithful to God amidst painful and hard times. Trace the thread of joy and purpose that comes from delighting in the Lord and the healing that only He can bring to His children. Room WC1102.
---
Worship Choir

Help lead worship at 9:30am on Sunday mornings with the Worship Choir! The choir rehearses on Wednesdays in Room WC1127. No audition required!