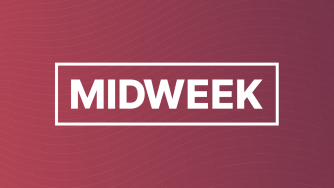 Join us on Wednesdays for Sagemont Midweek! We have a variety of studies and activities for you and your family to enrich your lives and grow spiritually. Unless noted otherwise, all studies are 6:30pm – 8:00pm on Wednesday nights, starting January 11, 2023. Childcare is available through Kids Midweek!
CHOOSE FROM THE FOLLOWING:
STUDIES
American Sign Language | Room 1115
Sagemont Church has some amazing volunteers that are teaching American Sign Language classes. These classes will cover beginner, intermediate, and advanced learners, ages 12 and up.
Powerful Defense of the Christian Faith | Room 1110
Join class instructor, John Clemente, in this apologetics class that will study: Evolution vs. Intelligent Design, Why I Don't Have Enough Faith to be an Atheist, Biblical Archaeology, How Christianity has Benefited Mankind, and How did Jesus Defend His Ministry.
Foster Care and Adoption Community | Room 1109
A community group for those engaged in fostering or adoption.
Men's Midweek | Room 1111
"Kingdom Men Rising" by Toney Evans. This study is designed to exhort men to exercise the God-given place in the home, community, and culture they were created for through an examination of landmark texts from the Bible and historical biblical figures. This experience will bring greater clarity to a Kingdom understanding, vision, and perspective in crucial areas such as identity and responsibilities. Along the way, Evans shares practical steps on how to become a man who leads his world well. Registration is $25 and includes your study materials.
Parenting Class | Room 1315
"The Art of Parenting: Aiming Your Child's Heart Toward God" by Dennis and Barbara Rainey will help you experience God's truth and apply His Word in your family by focusing your attention on four crucial elements in your children's lives: Identity—understanding who they are in Christ; Character—learning to live wisely and honorably; Relationships—fostering godly connections with others; Mission—understanding why they are here. When you apply biblical truths in these four areas, you can feel confident your children of all ages and stages will have a foundation they can build upon for the rest of their lives. Facilitated by Preston and Jenny Howard. Cost: $15 per couple.
Precept | Room 1320
"Acts Part 2: Paul, Jesus' Witness to the Gentiles"—Join Paul on his journeys across the Roman world to proclaim the saving message of Jesus to Jews and Gentiles. In addition to the traditional Precept study guide, we will also be offering the "In & Out" guide. The "In & Out" study is the same amazing Precept content but with two days of homework. Registration is $25 and includes your workbook.
A Study on the "One Anothers" | Room 1125
A series of lessons on God's love – what it is, how to experience it, applying it in your relationships with family, friends, colleagues, and even enemies. This course will help us abide in His love and allow us to experience God's power in ways we never knew. This journey will change how we act, react, and think about the people we rub shoulders with every day. This series can seriously change your life and alter how you handle challenges and conflicts for the rest of your life.
Wednesday in the Word | Room 1113
Join Pastor Freeman Tomlin as he teaches this study that meets in the Chapel (1113). Wednesday in the Word will be live-streamed weekly on our website.
White Flag | Room 1313
The White Flag is a ministry where groups of men meet together weekly, walking verse by verse through the Bible, for encouragement and accountability. This group is led by Edwin Twitty.
Women's Midweek | Room 1102
"Pathways – Lessons from Esther: From Providence to Purpose" by Tony Evans. God has a purpose for your life, and He uses every action and event that occurs in it to make that purpose a reality. The biblical account of Esther appears to be a series of coincidences strung together that deliver the Jews from certain death. However, God selected Esther for a particular purpose at a particular time in the history of His chosen people.
In this study, you'll discover your pathway to purpose as you learn and apply principles of God's providence. You'll learn to recognize the power of God's providence in the midst of your personal pain, fear, gain, loss, and love. In addition, you'll be awed by the very personal nature of God as He guides humanity, leading each of us with His intended purpose for our lives. Registration is $25 and includes your workbook.
---
SPANISH STUDIES
Estudios Bíblicos - Varones | Salón 234
"Una Iglesia conforme al corazón de Dios" Autor: Miguel Nunez Colección: Integridad & Sabiduría B&H Publishing Group "¿Cómo la iglesia puede reflejar la gloria de Dios? Cuando la iglesia de hoy decida hacer la obra de Dios a la manera de Dios, podrá contar con el poder de Dios."
Estudios Bíblicos - Mujeres | Salón 132-133
En "Un corazón en el desierto", Patricia Namnún invita a un viaje de esperanza que te ayudará a reconocer tu temporada de sequía espiritual, identificar los caminos que te han llevado hasta ahí, dejar de creer las mentiras que te dices a ti misma, tener el valor de abrazar la verdad y volver a Jesús, Aquel que es el único que puede hacer que ríos de agua viva fluyan dentro de ti una vez más.
---
KIDS
Kids Midweek | Children's Building
Kids in Kindergarten through 5th Grade are invited to join us this spring for a fun-filled evening of worship, Bible study, games, snacks, and fellowship! There is no charge, and friends are welcome!
Please Note: All children must be dropped off and picked up by a parent/adult over 18. Kindergarten and First Graders meet in Yellow 262; Second–Fifth Graders meet in Orange 204.
---
STUDENTS
Student Midweek | Sagemont Gym
Junior High (Grades 6-8) and High School (Grades 9-12) students are invited to hang out, play games, worship, and join in for a time of small groups. Hangout time in the Gym is from 5:00pm to 6:30pm Our Student Worship Service and small groups run from 6:30pm to 8:00pm.
---
SUPPORT GROUPS
Dementia Care | Room 1325
Led by Andy Wright: LPC-Associate. Book: Finding Grace in The Face of Dementia by John Dunlop. MD Group setting for family members and loved ones caring for the elderly/memory challenged.
Divorce Care | Room 1319
Join Dr. Shara Schlitzberger, LPC-A, as she walks you through a 13-week program for dealing with divorce.
Grief Share | Room 1321
Led by Greg Pina, Grief Share is a Support Group that meets weekly. If you've lost a spouse, child, family member, or friend, you've probably found there are not many people who understand the deep hurt you feel. Join this group to help you face these challenges and move toward rebuilding your life.
Life Support | Room 1317
Join James and Sharon Hilliard in this support group that helps with life struggles: personally, emotionally, relationally, and spiritually.