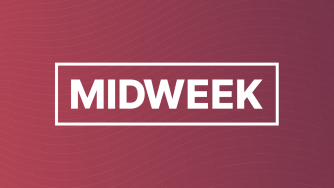 Join us on Wednesdays for Sagemont Midweek! We have a variety of studies and activities for you and your family to enrich your lives and grow spiritually. All studies are 6:30 pm – 8:00 pm on Wednesday nights, starting June 14, 2023.
During the Midweek Summer session, Wednesday night childcare is available for children, birth through 5th Grade. Please Note: All children must be dropped off and picked up by a parent/adult over 18.
FREE STUDIES
SUMMER MARRIAGE SERIES | Room 1102
Our summer marriage series will cover various topics selected and taught by the Sagemont Leadership Team and their spouses. This is a study you will not want to miss!
WEDNESDAY IN THE WORD | Room 1113
Wednesday in the Word is open to both men and women of all ages. During the summer session, the group will be studying "Relentless Pursuit - A Study of Jonah." Wednesday in the Word will be live streamed weekly on our website.
---
PAID STUDIES
MEN'S MIDWEEK | Room 1301
Our summer men's group will be studying "The Dark Side – Confronting Evil" by Jeremiah Johnston. The cost is $10 to participate and receive study materials.
REFINED | Room 1317
Our summer women's group will be studying "Good Boundaries and Goodbyes" by Lysa TerKeurst. The cost is $25 to participate and receive study materials.
LADIES SUMMER BOOK CLUB | Room 1315
Our summer women's group will be reading "Jesus Revolution" by Greg Laurie and Ellen Vaughn. The cost is $25 to participate and receive the book.
---
SPANISH STUDIES
ESTUDIO PARA LA FAMILIA | HRA Sanctuary
"La Familia desde una perspectiva Bíblica" por Les Thompson. A través de estos estudios se busca capacitar a la familia para confirmar y enseñar a otros los valores cristianos. Ven y pasa un tiempo agradable con tu familia de fe.
---
STUDENTS
STUDENT MIDWEEK | Sagemont Gym
Junior High (Grades 6-8) and High School (Grades 9-12) students are invited to hang out, play games, worship, and join in for a time of small groups. Hangout time in the Gym is from 5:00pm to 6:30pm. Our Student Worship Service and small groups run from 6:30pm to 8:00pm.
---
SUPPORT GROUPS
Sponsored by the Sagemont Counseling Center
LIFE SUPPORT | Room 1320
Join James and Sharon Hilliard in this support group that helps with life struggles: personally, emotionally, relationally, and spiritually.
RIGHT STEP | Sagemont Annex Parlor
Led by Duane Lewis: Christ-centered 12-step program for anyone battling addiction.
DEMENTIA CAREGIVERS | Room 1325
Led by Andy Wright: LPC-Associate. Setting for family members and loved ones caring for the elderly/memory challenged.