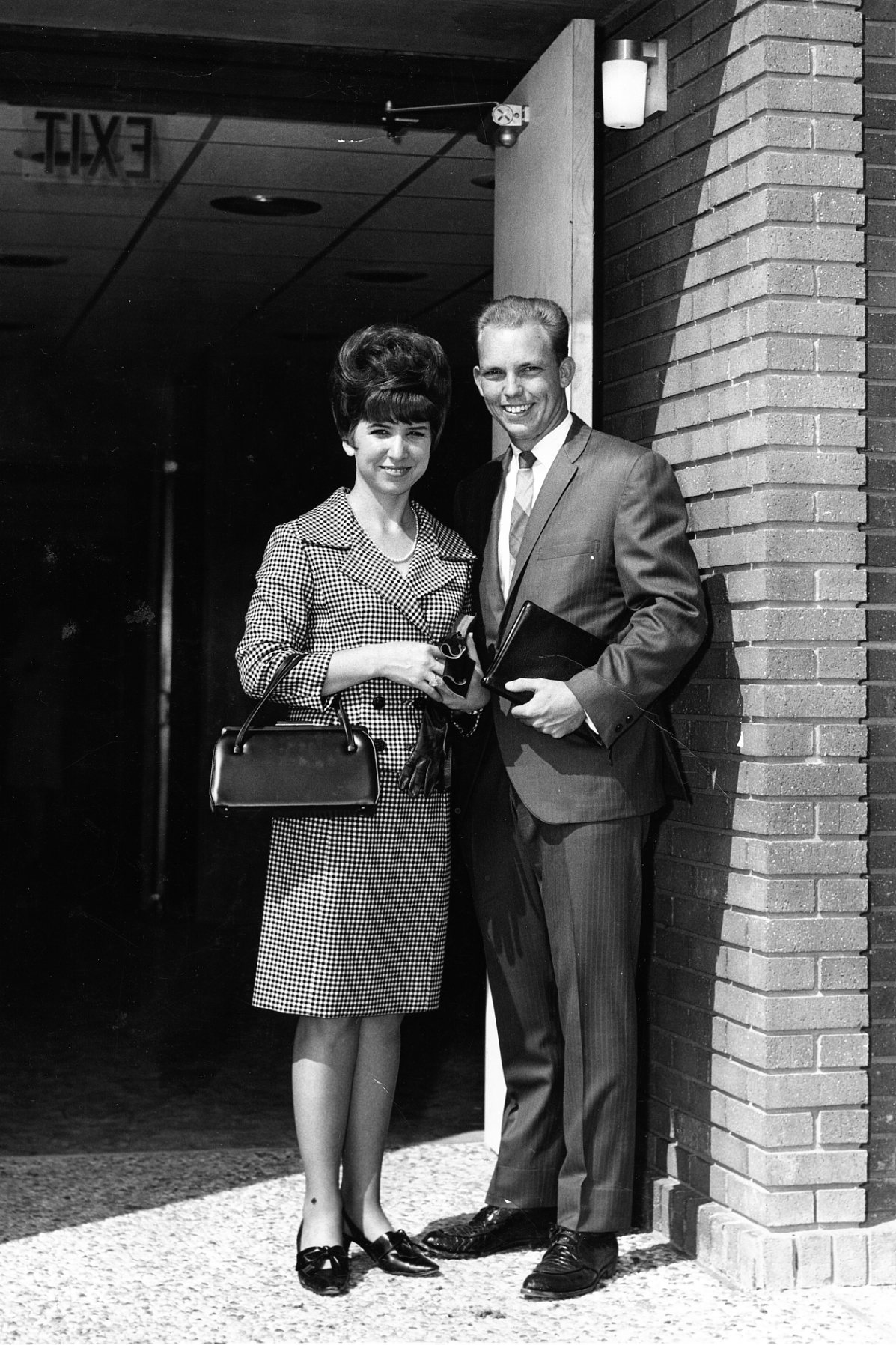 Over the last ten years, in order to write a handful of articles featuring his life, family and ministries, I have interviewed Sagemont Church's Founding Pastor, Dr. John Morgan, whom we all call Brother John. Each time I walk away inspired and so grateful to be a member of a church whose pastor has constantly sought to be in the center of God's will for his life and has led our church to do the same. I can honestly say that Brother John is the "Real Thing." He is exactly who he is behind the pulpit as he is one-on-one.
To my surprise, this final interview with Brother John and his wife of one year, Kathie Reimer Morgan, did not go as I had planned. After he spoke about Sagemont Church's beginnings I asked several questions prompting him to share his greatest achievements which led our church to become the megachurch that it is today: "What were your most important achievements over the five decades?" and later "During your 53-year tenure as Senior Pastor, what specific things did you do that made Sagemont Church so successful?"
When he still was NOT giving me the "quotes" I thought I needed, I read aloud my exhaustive list of the many different areas Sagemont Church has impacted so many of its members and the surrounding community. I started with data collected from June 1966 through November 2019, which officially recorded 20,520 professions of faith, 18,245 baptisms and 36,062 new members. He smiled as I spoke of the impressive 170-foot cross that a million people drive pass weekly and the special baptism services held beneath. I pointed out the unique Pastoral Care Ministry that has reached out to over 100,000 hospital contacts by staff and volunteers since its origin in 2001. I recalled how after Hurricane Harvey devastated this area in 2017, Sagemont Church, through Helping Hands Ministry, led our people to repair more than 1,800 homes and fed around 170,000 meals. I listed the numerous iCONNECT classes and Bible studies each week as well as the success of the adult choir, senior adult, men's, women's, youth and children's ministries. I mentioned the radical Sagemont Bus Ministry where thousands of local children were bussed in for services on Sundays from 1976 to 2006. I thought for sure he would jump on the chance to speak about the struggle to become debt-free and remain that way for 43 years, even with the addition of the state-of-the-art building projects on the main campus, the expansion to Beltway 8, and Danbury Lodge. I reminded him of the incredible amount of money donated over the years, nearly $400 million dollars, given by Sagemont Church members to pay for our yearly budgets which include local ministries and supports missionaries around the world.
To my initial frustration, instead of speaking about all of his accomplishments, Brother John shared specific examples of "regular" people whose lives were touched by God through Sagemont Church. By the conclusion of the interview I realized that it has always been about the people for our pastor. When he reflected on the past 53 years, our beloved Senior Pastor recalled the men, women and children who faithfully came and gave of their time, energy, talents and resources as well as their hearts to the Lord.
TAKE UP THY CROSS AND FOLLOW ME,
I HEARD MY MASTER SAY
I GAVE MY LIFE TO RANSOM THEE
SURRENDER YOUR ALL TODAY
If you have ever listened to Brother John speak, you will know he loves hymns and frequently refers to them, even singing "out-of-tune" verses. He shared why one hymn in particular has special meaning, "When I was seven years old I made my public profession of faith at First Baptist Church Pasadena after being led to the Lord by my Dad in his office. The following Sunday that song, 'Wherever He Leads I'll Go,' was the invitation. I walked down the aisle to the front where my Dad, the pastor, stood waiting."
Eight years later, when Brother John was 15 years old, he was dating Bethel Barcello. He laughed as he was quick to explain that a date back then was going to Training Union on Sunday nights. "That night we were sitting at the back of the church with all the other teenagers, about 20 of them. Beth had already told me she wouldn't marry a preacher, and I had said to her at the time, 'You don't have to worry about me, because I am NOT going to be a preacher'."
After the guest speaker finished speaking, the congregation sang 'Wherever He Leads I'll Go,' for the call to the altar. Brother John smiled, "I left that back row to meet my Dad at the front. I said to him, 'Daddy, God's calling me to the ministry.' I thought that I was walking away from any kind of relationship that Beth and I would have had together. I remember sitting on the front row at the end of the aisle with my head bowed, and I recognized Beth's shoes, because they were loafers with a dime on the front! I looked up and sure enough it was her. She said to my Dad, 'I've come to rededicate my life to be anything God wants me to be.'" Brother John chuckled as he pointed out that as his wife, Bethel, ended up being married to a pastor for 54 years before her passing in 2017!
WHEREVER HE LEADS I'LL GO
I'LL FOLLOW MY CHRIST WHO LOVES ME SO
WHEREVER HE LEADS I'LL GO
In 1956, just two months after answering 'yes' to the call to surrender his life to ministry, 15-year-old John Morgan was going around to little churches in Pasadena to preach. He shook his head and smiled, "Of course my Dad was calling all those pastors to ask if his teenage son could preach at their church. As a result, I've been preaching God's Word for 63 1/2 years!"
He attended Baylor University, and during his time at Southwestern Theological Seminary, he pastored little Texas churches in Brenham and Sulphur Springs on the weekends. Brother John, then age 25, was invited to preach at a church in Liberty, Texas where 17 "big cowboys" were saved as a result. The church approached him and asked if he would be interested in being their new pastor. Brother John explained, "During that same time I got the call from Mr. Alexander from FBC Pasadena to come and look at a piece of property in a new area called Sagemont." Brother John chuckled as he recalled, "I remember the offered salary at Liberty was $27,000 a year plus a new parsonage and the church was a beautiful building only 10 years old. Then there was Sagemont which paid $6,000 a year, plus $110 a month for an apartment and nothing but grass! But the Lord very clearly said to me, 'I want you to go to Houston,' and so I went."
February 27, 1966 was the official first day of Sagemont Baptist Church, though at that point there was no building just two plots of land designated for churches. Brother John explained, "That date meant that I started on the payroll and it was the first day I was given permission to baptize." From that day in February until the first service held on October 30, just eight months later, the young, energetic, pastor lived in a rented apartment in Pasadena with Bethel, and spent the days knocking on doors inviting everyone he came across to attend the new church being built. He chuckled, "I literally knocked on every single door out here! The new neighborhood of Sagemont was just growing like crazy! I had a little brochure that said that we are going to be opening sometime in October or November and I invited them personally to come." To his joy, 151 people, along with the 16 original charter members, gathered on the first Sunday at the brand new Sagemont Baptist Chapel.
HE DREW ME CLOSER TO HIS SIDE,
I SOUGHT HIS WILL TO KNOW,
AND IN THAT WILL I NOW ABIDE,
WHEREVER HE LEADS I'LL GO
When asked what made Sagemont so successful over 53 years, Brother John leaned back in his chair and crossed his arms over his chest revealing a red rubber bracelet on his right wrist that said, "Jesus Is Here" and on his left wrist a green rubber bracelet with the letters LPLGWW were inscribed. He stated, "It's pretty simple. We agreed from day one that we would love the Lord, love the Word of God and love each other! We would respect each other. When one of us hurt we'd all hurt. When one rejoiced we'd all rejoice." He looked down at his left wrist and lifted it to show the letters LPLGWW, "Our motto, Living Proof of a Loving God to a Watching World, came later, but the scripture, 'Behold how they love one another' (1 Peter 4), was always true for us. That's what they said about Christians in the New Testament. They loved each other!"
Brother John explained that the reason he wanted our seven core values painted on the walls in the church Lobby is because they are a constant reminder to us all that we serve a "Loving God" and we are to "Love People." Warming to the subject he continued, "The reason we have kept our UNITY all these years is because we love each other. Our children have not grown up in this church listening to their parents fight each other while they shoot spit wads in the back, like I used to do. Here at Sagemont that just didn't happen."
As the years passed the church grew with new members as well as families growing up and remaining to raise the next generations at Sagemont Church. "We got to be a big family. You know that song we sing?" Brother John sang the upbeat chorus, "I'm so glad I'm a part of the family of God." Smiling, he continued, "We became a big family with kids and then grandkids and now great grandkids and great great grandkids and all that. The LOVE has spread throughout the whole congregation. When you walk into Sagemont, you feel loved."
He shared the time when charter members, Jay and Marilyn Evers', nearly-two-year-old daughter, Angela, was at Clear Lake Hospital Emergency Room in February 1975, running a high fever, going in and out of consciousness and having seizures. Brother John called and spoke with a tearful Marilyn who was extremely distraught because the doctor had not yet seen her very sick daughter and Jay was home with their other two children. Brother John immediately drove to the ER, found the doctor who was in the middle of attending a banquet in the hospital, spoke to him about Angela's test results and then found and relayed the news to a very grateful mother. A few hours later Angela was finally stable enough to be transferred to Texas Children's Hospital in the Texas Medical Center via ambulance where she was diagnosed with Bacterial Meningitis. The next morning Marilyn was told by the doctors: "Angela nearly died during the night, but she is going to survive." Ten days later, which was the day before Angela's second birthday, she was released with a clean bill of health by an amazed infectious disease doctor who told a group in interns, "This child is alive because of all the prayers going up for her from her church."
Two months later on April 6, 1975, Brother John and Beth went to the hospital in the middle of the night because they received a call that Jay's mother, Eva Evers, was near death after a short battle with Lymphoma Cancer. Brother John recalled, "Jay and I were standing in the room and he turned to me and said with tears in his eyes, 'I just can't believe that you're here and so many others are calling. It's amazing how much our church loves each other'."
WHEREVER HE LEADS I'LL GO
WHEREVER HE LEADS I'LL GO
I'LL FOLLOW MY CHRIST WHO LOVES ME SO
WHEREVER HE LEADS I'LL GO
Under Brother John's leadership, God's Word and the Good News of the Gospel of Jesus Christ was never "watered-down" or omitted. Everyone knew that you would hear the message of salvation from Sagemont's pulpit. Brother John stated, "From the very first sermon I tried to always be conscious of the fact that you'll have people show up and that might be the only time they will ever hear the Gospel."
Kathie, who sat across from Brother John, smiled at him as she shared, "The salvation message for some of us has been heard most of our lives. I was saved at age six, but every time we hear it preached it rekindles that fire within us. Not only to remember when we were saved and that Jesus died for us, but it makes us want to go tell other people. Evangelism in the church keeps that spiritual vitality alive and well. You think if you hear the message over and over it would become boring but that is the opposite of what happens because it just keeps it alive to all of us. It's the life blood of the church."
Brother John shared the testimony of Sagemont deacon, Gerry Saccane, who is now a staff-volunteer who leads international mission trips. Gerry's salvation in November 1966 is a direct result of our pastor making evangelism a cornerstone of Sagemont Church. Brother John shared, "Gerry is the now the 'Saint of Sagemont,' but the first time I met him he was drinking a lot of alcohol. But when he got saved, HE GOT SAVED! Gerry has never wavered in his walk with the Lord. He became a soul winner, leading the engineers in his office to the Lord." One day Gerry brought his co-worker, Ed Harris, to Brother John's office and asked if he would talk to him about the Lord. That is exactly what Brother John did, "I said to him, 'Ed, one of us is right and one of us is wrong. You do not believe there is a heaven to gain or a hell to shun. You don't believe that Jesus is the only way to salvation.' I went on with that and then I said, 'That is ok, that doesn't anger me one bit. But, let's just suppose you are right and I'm wrong, you are the one that's unhappy. I am still better off than you are. If I'm right and you are wrong, you don't have a chance. Ed, you are going to die and spend an eternity totally separated from God forever and ever and ever.' He started crying and then Ed got down on his knees in my office and gave his heart to the Lord." Ed Harris remained faithful to the Lord the rest of his life until his passing in 2017.
Kathie smiled as she stated, "As you know, John has always led by example in soul winning. It's obvious that he does it and it keeps it alive for the rest of us and makes us want to be soul winners too. I have gotten to see, as an outsider coming in, that he will spend whatever time is needed. It makes no difference who they are, he will stand and talk to them because he loves everybody like his child or his brother… It is NOT phony."
MY HEART, MY LIFE, MY ALL I BRING
TO CHRIST WHO LOVES ME SO;
HE IS MY MASTER, LORD, AND KING,
WHEREVER HE LEADS I'LL GO
Brother John touched the wooden pendant, featuring the image of Sagemont's empty tomb and cross, which rested over his heart and stated with great conviction, "What did Jesus do? He loved people." He shared the testimony of another Sagemont member, Brenda Breeden Ortiz, who can be found singing in the alto section each Sunday morning in the choir. "The very first church meeting we ever had was in her parents' house right across the street. They were some of the original 16 members. Brenda went into sin and lived the lifestyle that goes along with addiction to drugs. She finally came home to this church and back to the Lord. We didn't condemn her or 'stone her' or throw her momma and daddy out. We just kept on loving her. She is now one of the happiest people in this church and she is vivacious about sharing her testimony with anyone who will listen."
He then pointed in the direction of the intersection where Hughes Road intersects Beltway 8 South and told how there used to be man and a woman who sold the Houston Chronicle newspapers at that corner. For years Sagemont members were faithful about buying the paper, bringing them food and clothing and praying with them. He stated, "Both of those people had some major nose dives in their lives. Instead of dumping them we went to them. Beth and I went up to the hospital when the woman got hit by a car. At the hospital she kept saying to the nurses, 'Would you please call Brother John!' They didn't know who Brother John was. She finally told them, 'Well, he's the preacher over there where I live.' The nurses asked, 'Well, where do you live?' It was that kind of an ordeal." The woman survived her injuries but passed away from natural causes not too long afterward.
Brother John summed up his thoughts, "When we talk about love, we talk about loving God and loving others. The thing we want the community to know is that this church has and, I believe, always will love others despite what they think or look like or how their background differs. God loves them. The last time I counted there were 17 different nations represented in the membership." Raising his left green wristband in the air for the second time he stated, "We are truly LPLGWW! "
WHEREVER HE LEADS I'LL GO
WHEREVER HE LEADS I'LL GO
I'LL FOLLOW MY CHRIST WHO LOVES ME SO
WHEREVER HE LEADS I'LL GO
When asked what his future plans were with Kathie by his side, he stated that he plans to continue to do Financial Freedom Seminars as well as minister to young pastors. He shared, "My passion has always been to other pastors. It's what we call a Paul/Timothy kind of thing where every Timothy needs a Paul. I had one in my Dad when I was Timothy and my dad was Paul. I was blessed because I was born in a pastor's home, but these poor guys don't have anyone to talk to and they are doing the best they can. I believe God has called them but there are still some things you have to know and what you better not do."
He shared his final thoughts to his beloved congregation: "We can never forget that Sagemont Church is not MY church nor is it YOUR church…it's HIS church! Sagemont Church is the Bride of Christ so that means it's not what THEY want, it is what HE wants. Without a doubt, for the past 53 years, Sagemont Church has been HIS church. He has had #1 priority. If we believe that and it's true, then the next 50 will just get better, because like one of my favorite hymns, 'Everyday with Jesus is sweeter than the day before'."
On Sunday, November 24, 2019, Bro John preached his final sermon as Founding Pastor of Sagemont Church. As usual, his words of love, truth, and redemption of God's Word touched the hearts of everyone as he preached "The Sagemont Story, Part 2."
With tearful and grateful hearts we say thank you, Brother John, for loving us, your church family, so well these many years. Thank you for unashamedly sharing the Good News of salvation and redemption in every single one of your thousands of sermons to us. Thank you, Brother John, for being the ultimate example of Living Proof of a Loving God to a Watching World to countless numbers of men, woman and children here and around the globe. In following your example, we want to join you and sing, "Wherever He leads…we'll go!"
Thank you, Brother John.
We love you.