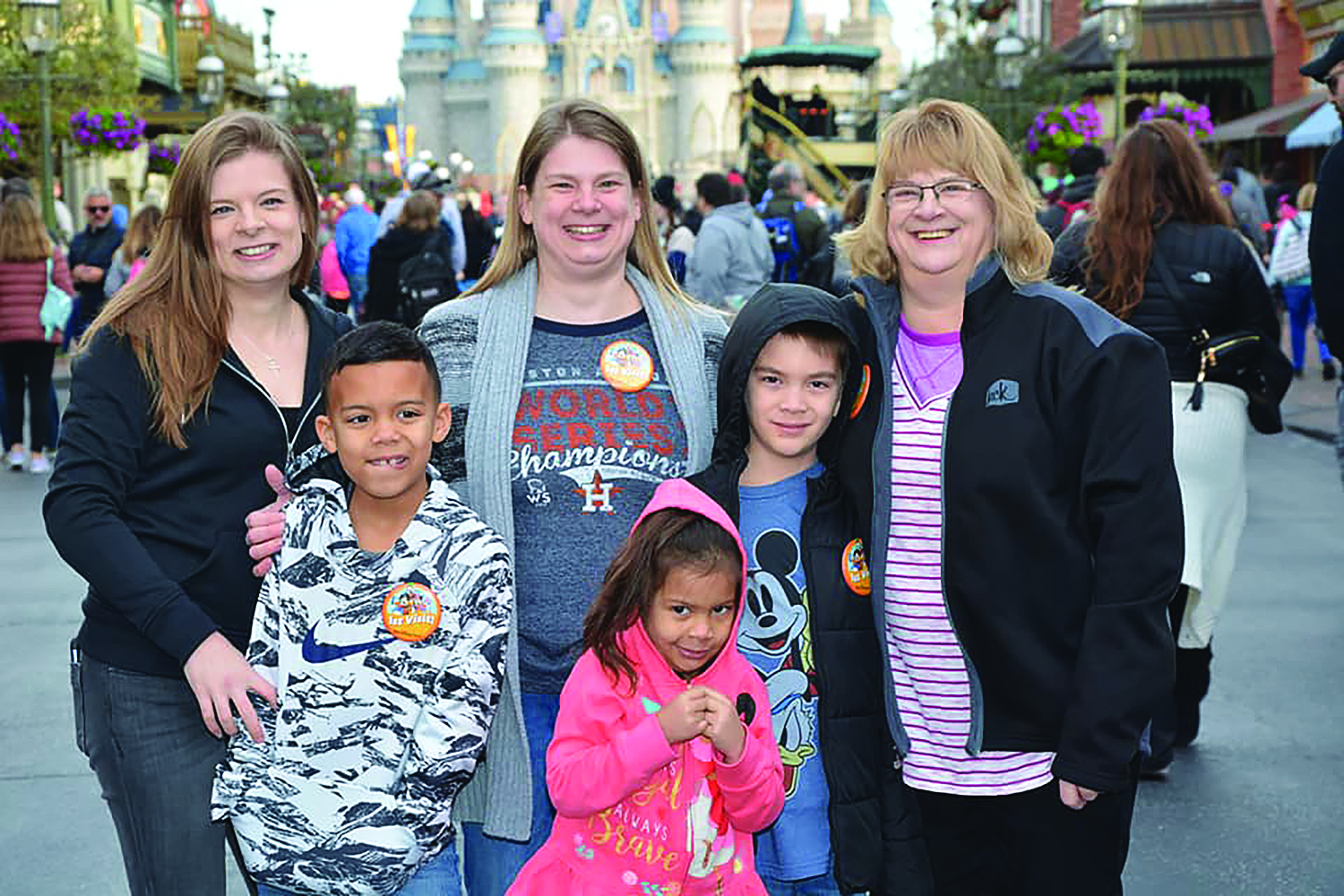 Sagemont Church's Oasis iCONNECT teacher, Stephanie Harris, shared an example from her past about her tumultuous relationship with her mother. "I graduated from Spring High School in 2003 as Cum Laude with a 4.3 GPA. I was very ANGRY that my mom showed up at my graduation ceremony. A week before she had gotten in a car with a guy to prostitute herself for drugs. During the car ride she realized that it was going badly and was scared of where he was taking her, so she jumped out of the car onto the street and as a result her face had severe road rash. She looked awful. I remember seeing her there and being angry that someone told her where it was and that she actually came. I didn't want her to celebrate MY big accomplishment. I didn't want her to receive any recognition for any GOOD that I had done!"
Stephanie was born in Houston, Texas to Damon and Vonda Harris who were "Junior High Sweethearts." The couple continued to date through high school and married shortly after graduation. Vonda turned 20 years old the month before her first child, Stephanie, was born in April 1985. A second daughter, Stacie, joined the family a few years later. Stephanie recalled attending Memorial Baptist Church with her mother and grandmother, whom she lovingly called Nana. "I have happy memories of going to AWANAS and church camp. I had a lot of really close friends in that time period of my life. Looking back, I thought we were always at church, but we actually were 'in and out'. We would go to church for a period of time and then when things were bad, my mom would step back and then Nana would take Stacie and I to church and filled in those gaps for us."
Stephanie described her parents as "partiers." At the time she knew her parents both drank heavily on the weekends, but did not realize until much later that her mother was addicted to cocaine. In 1996, when Stephanie was 11 years old, her parents divorced. She explained, "My mom had a baby with someone else at the end of my parent's marriage when they were separating and divorcing so my baby sister, Paige, was born in September of 1996."
Fortunately, leading up to that difficult year, her mom's sister, Renee Parker, would come for a visit, she would set Stephanie down in her bedroom and talk to her about sin and how much Jesus Christ loved her. Stephanie explained, "I don't know why it was so heavy on Aunt Renee's heart at that time to minister to me and to have those spiritual moments with me. I don't know how many times she came over to talk to me." Renee had been a member of Sagemont Church from 1998 to 2000 before she later married and became Rene Zahn and moved to North Dakota to join her husband in prison ministry.
Then on a Sunday morning on January 15, 1995, Stephanie, age nine and a half, committed her life to Jesus. "I didn't plan it. I didn't decide ahead of time like 'this Sunday I am going to walk forward,' but I was sitting in church and I felt God tell me when they did the call at the end of the service to step out of the pew and walk up to our pastor. I did that and I told him I wanted Jesus in my heart. I still remember leaving church that day, it was bright and sunny. My mom had the windows down and I remember that incredible feeling of FREEDOM! After that I was on fire for the Lord, wanting to know everything about God and reading my Bible at night."
A few months later, on Easter of 1995, Damon made the same commitment to the Lord. Stephanie shared, "My dad had not been raised in a Christian home. He was a guitar player and back then he was playing Metallica, Led Zeppelin and Guns & Roses." Stephanie's smile lit her face as she proudly shared, "That was when his sobriety started. Dad has been completely sober for nearly 25 years! He is a member of Spring Baptist Church and he is now the lead guitarist for their traditional worship service!"
After the divorce, Stephanie, a sixth grader, along with Stacie, her mom, baby Paige, and Paige's dad moved to Spring, Texas. By the time Stephanie was in the eighth grade their home was very hostile and uncomfortable. Stephanie shared, "Paige's dad was physically abusive to my mom. I would wake up in the middle of the night and hear them fighting. As a child I didn't know what to do about it. I was scared to let him know that I knew what he was doing. Then they had a really bad fight and my mom was left with a lot of bruises on her face. That's when my mom decided to do something about it and he ended up getting arrested and then going to jail."
At the end of 1998, Stephanie's mom said bluntly to her 13-year-old daughter, "'Stephanie, I know you are not stupid.' I thought she was talking about the abuse, but she was actually talking about her drug addiction. She confessed to me that she was addicted to hard drugs." In order to help care for his two daughters as well as baby Paige, Damon, moved in to his ex-wife's Spring home while she went to a two-week rehab program in California. When she returned, there was a huge celebration with their church family.
Damon remained in the home to co-parent after Vonda returned from her stint in rehab and things went well for a period of time. Even though they were not in a relationship, to everyone's surprise, December of 2000 her parents got remarried! Then in June 2001, right after Stephanie's 16th birthday, her mom took 4 1/2 year old Paige, cleared out the bank account, and disappeared during Tropical Storm Allison! Stephanie shared, "My mom wanted to believe there was this good inside of her and she could be a wife and a mom. She was trying to play this role, but she hadn't quite taken care of those demons in her life. At this point, we thought she was sober, but she wasn't."
Though Vonda was homeless, Paige remained with her for a short period of time, while Stephanie and Stacie remained at the house with Damon. Stephanie shook her head as she sadly recalled that every Friday night, her Dad would drive her and her sister to whatever house in which Vonda was staying. They would return home with Paige where Stephanie would bathe her baby sister and wash her hair. After being cleaned up they would try to help the four-year-old relax for the weekend. Then every Sunday night they would have to drive Paige back to their mother. After living at a boyfriend's house and then house-hopping, Vonda ended up living in a motel where she cleaned rooms in order to have a roof over her head. Stephanie stated, "My mom was also prostituting herself…pretty much everything that happens with that lifestyle of being addicted to drugs my mom lived it."
Stephanie described her years at Spring High School, 1999 to 2003, as being "rough." She explained, "I didn't want to be anything like my mom so I was committed to making good grades and go to college and prove to everyone I was nothing like her. I had this chip on my shoulder which motivated me to move forward." Her efforts at being the perfect student and daughter did not extend to her relationship with God. "However, at this time I stopped going to church. I was angry at God and ashamed because everyone at my church knew my family's problems. I didn't want people feeling sorry for me, so I withdrew from church and I stopped going. I never stopped telling people I was a Christian but I was off living my own prodigal life at the same time. Unfortunately, I was desperate to fill the void and holes in my heart with all the wrong things. I sought attention from boys. At the time I thought, 'If I can find the right boy then he will sweep me out of my circumstances and rescue me from my problems and make everything right.'"
By the summer of 2006, Stephanie, then age 21, got news that her mother showed up at the New Light Drug Rehabilitation center in the Greenspoint area of Houston. After Vonda was processed into the facility, a minister walked into the room and immediately said, 'You must be Stephanie's mom, you look just like your daughter!' Stephanie explained, "I found out later that my friend's mom, Sandra Cole, would lay on her bedroom floor and pray specifically for my mom and me. She prayed for my mom to be healed and sober but also for the restoration of our relationship. At the time I didn't know how important Sandra's prayers were."
Vonda successfully completed the drug rehab program by October 2006. Stephanie stated, "I don't know how many drug rehab programs my mom had gone through from the California one to this one…it was many…but this one clicked. After that my dad allowed her to move back in with us. My dad wanted her to get her life back together and be the mom she needed to be for us." It was at this point that Renee had her sister go through stages to prove herself before returning full custody of then 10-year-old Paige to Vonda. Stephanie smiled, "Just the fact that my mom got Paige back was an example of God's grace. Mom and Paige lived with us for a few years before moving out and getting their own home."
Even though her mom was working hard not only to get healthy but also to restore the relationships that had been destroyed as a result of her drug addiction, Stephanie admits to being happy for her mother but still angry with her. "I remember my mom being upset with me that even though she was now sober that I still had this wall up towards her. It was then that I realized how bitter and resentful I was toward her still. I had gone years of my life pretending like she was already dead because it was just easier just to block her out than to admit that my mom chose drugs over me."
The same month her mom was released from rehab, Stephanie reconnected with an old high school classmate. He was in the U.S. Army and Stephanie described their long-distance relationship as being "off and on again." In September 2007 he deployed to Iraq, and when he came home on leave in May 2008 Stephanie became pregnant. He was back in Iraq when she found out she was expecting. Stephanie sighed, "I had hoped at that time that since I was having our baby we were going to work things out and he would fix all my problems, but of course that didn't happen because he wasn't designed to be my savior."
Their son, Jaxson Adame, was born in February 2009. During her maternity leave, while sitting in the recliner rocking her infant, everything changed. Stephanie smiled as she explained, "Suddenly all these sensory memories came back to me. I could remember the temperature of the water and way the baptistry smelled the day I was baptized. I could see myself in the classrooms during AWANA as a child. I could hear certain lessons that they were teaching like the lesson about how you have to put God first because then everything else doesn't fit in your life. Different things were just coming back to me including the feeling of freedom like when I would sing Christian songs in the car with my friends." Stephanie continued, "I remember rocking my baby and thinking, 'I don't want my son to grow up and not have that. I don't want to raise him and him not know Jesus'! That's when it hit me: 'I can't raise this baby on my own. I need Jesus!'"
It took her a year to muster the courage but on February 14, 2010, Valentine's Day, she took one-year-old Jaxson to Spring Baptist Church, where her parents both attended, for the very first time. She stated, "I didn't want to go to church when I was pregnant because everyone was going to know that I wasn't married." Stephanie served in children's ministry and then was asked by an aunt to give her testimony at their annual women's ministry retreat in July 2014. "Giving my testimony for the first time was a life-changing thing because it was the first time I saw that my sad story could be used for good. After the women's retreat, I desired to tell my story more."
Even though she still lived on the north side of Houston with her dad and son, Stephanie and then six-year-old Jaxson, made the 40-mile drive each Sunday to attend Sagemont Church in the summer of 2015. She joined a year later on the weekend of the church's 50th anniversary in June 2016. Stephanie smiled, "I was home here. I just knew that God had something planned for me, but I had to trust Him whatever it was." The very next summer, right before Hurricane Harvey hit in August 2017, Stephanie officially became the teacher for Sagemont's iCONNECT Oasis class, which is a Sunday morning class specifically for "solo moms."
She smiled as she reported that Jaxson asked Jesus in to his heart after an AWANA's class at age five. "Now Jaxson is a fifth grader who is active at in Sagemont's Adventureland on Sunday mornings while I teach. He loves church."
Stephanie shared an example of how "changed" her mom is now, "Since my mom has been sober, she has been hungry to serve the Lord. She always wants to reach out to the homeless because she was homeless for seven years. She tells them, 'I have walked in your shoes, I know what this is like.' I have been with her in different places where she has walked up to someone on the street and witnessed to them and led them to Christ." Stephanie smiled as she recalled when she, her mother and her Aunt Renee were in Galveston for a family vacation and they walked into Whataburger where they noticed an obviously "high" young man sitting at the corner table bobbing his head. She shook her head at the memory, "My mom didn't even hesitate. She walked up to him, introduced herself and asked, 'Hey, are you hungry?' He gave her this look and she said, 'I am going to get you something to eat. What do you want?'" Stephanie went on to share that her mom returned to the corner table with his meal, and like a mother with a small child, held his hands and prayed. After he finished eating, Stephanie's mom asked him if he wanted Jesus in his life. "He said, 'Yes,' so my mom led him to Christ and then he just walked out. I remember Aunt Renee asking her, 'How do you know that he is changed?' My mom shrugged and then answered, 'Well, I don't but God does. He may go use drugs a few more times but it won't be the same. It will be different. It's what happened to me.'"
Stephanie leaned forward, her blue eyes bright with hope, and stated confidently, "Reflecting on that story and recalling all the years of pain and years that I felt neglected, abandoned and unloved because I believed that my mom didn't love me. To now see so many people put their faith in Christ because my mom has been changed by a loving heavenly Father, I would go and do it all over again." Her voice broke with emotion as she said, "I know that God used what was meant for evil for his GOOD."
Her advice to someone who struggled to forgive after repeatedly being hurt over and over, is simple: "When I realized that my sins were no less or no greater than the sins of my mom, I found the strength through Jesus to forgive her. Forgiving her didn't justify the mistakes she had made, but forgiving her brought me peace. Forgiving her meant that I acknowledged to Christ that His death was for the sins of all. Forgiving her testified that I was grateful for the forgiveness God offered to me."
Each week as Stephanie teaches other single moms in the Oasis iCONNECT class she embodies the example of God's grace in being our Oasis, "the shelter" amidst the storms of life.