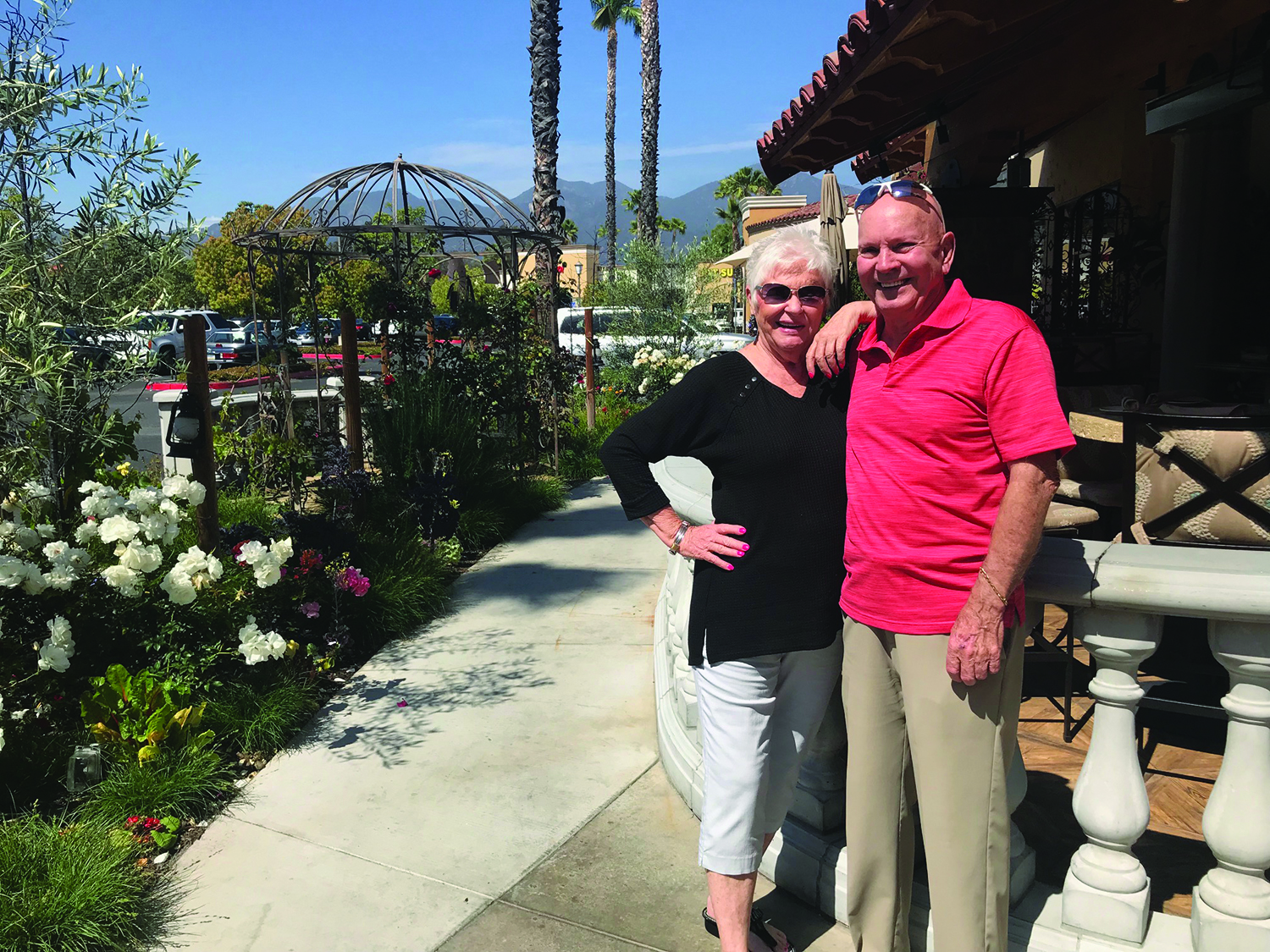 I'm writing this at the age of 80 in the hopes that it will inspire others to seek God as their Lord and Savior. I was born on February 9, 1938 in a small western Oklahoma town. Cordell, with a population of around 2,000, is located in a cotton and wheat growing area of Oklahoma. I grew up on a small farm located at the edge of town. We raised our beef, pork and vegetables. My two older brothers and sister and I learned to work at an early age.
I remember learning to pray when my father volunteered to serve in the Army during World War ll. My mother made sure we prayed for the safety of my father, our relatives, friends, neighbors and our country. Times were hard and everyone did their share to keep the families and the town together until the men returned.
My mother took us to the Church of Christ where both sides of the family attended and insisted we attend the children's classes. Each spring the church took all of the children for a week to a small lake outside of town that had sleeping accommodations. My sister and brothers were baptized during one of the outings. I don't recall why I wasn't.
There were no employment opportunities in Cordell, so after graduating from high school in 1956, I followed my brothers and sister to Pasadena, Texas. There were many families who had gone there during the war. Everyone helped each other and the families were very close. I'm grateful that my older brother and his wife let me and my brother live with them until we found jobs.
I began my career on November 6, 1956 in downtown Houston on Austin Street. The company was Borg-Warner Corporation, a manufacturer of automobile parts for the carmakers and the aftermarket with headquarters in Chicago. I worked hard and in May of 1960, the company moved me to Chicago to prepare me to open a distribution center in Salt Lake City, Utah. I began a long career in sales and sales management that moved me to Wichita, KS, Kansas City, MO, and Phoenix, AZ, spending the later years living in Mission Viejo, CA located in Orange County, CA as the VP of sales for the 11 western states.
While living in Utah my father died suddenly from a heart attack at the age of 53. The company allowed me to move to Cordell so I could help my mother and sister and her two young sons. I worked the surrounding states. In 1963 I married a girl from Cordell, Patricia Kay Holman. On September 6, 1964 our son Charles Kevin was born. We later divorced and after high school, Kevin came to California to live with me.
I spent a large amount of time traveling the western states, Alaska, and Hawaii so relationships were difficult to develop and finding a church home was almost impossible. I prayed often and shared my love for God with others. I shared my love for God and the way I was raised with my son and I tried to live the way God wanted. I prayed for God's help in being healthy and he answered when I saw a hypnotist and stopped drinking alcohol, stopped smoking, started eating healthy foods and started playing golf for exercise.
I prayed that God would help me get back to Texas to be near my mother and my family members. He answered, when in 1984, my company sold to another company that purged the older employees. My son and I moved from California to Pearland where my mother and family lived. It meant a lot that I was able to be with my mother during her later years and my son could be around his family.
In 1985 I contacted several of the large auto parts distributors that I knew throughout the western states and asked them to meet me at the L.A. airport. I presented an idea that was new to the automotive aftermarket that if they would join my new company, Eagle Nation, I thought I could get all of their manufacturers to give them more discount by combining the volume. A total of 18 in attendance agreed to sign on. The additional discounts, advertisement allowance and marketing funds far exceeded what was expected and added a lot to their profits.
Eagle Nation was very successful with only a secretary and me working as the extra discounts and funds were sent to Eagle Nation and we would forward it to the Eagle Nation members. The membership in Eagle Nation grew rapidly with over 200 members and millions of dollars in purchases from the manufacturers.
In 1987, I bought a house in Pearland and joined Golfcrest Country Club. In 1989, I met Patricia Raye Barker when we were paired in a couples' golf tournament.
Pat's husband Dale Barker had died a few years earlier. She was an original member of Sagemont Church and we regularly attended. She introduced me to Pastor John Morgan, one of her classmates at Pasadena High School. He and his wife Beth and their sons welcomed me into their homes and lives. I met Pat's friends and made many new ones.
For many years I listened and watched how people acted and treated each other. Never having a church home, I wasn't sure how Christians acted. I was influenced by the love inside the church and the love the people had for God and each other. Never did I hear negative words and I continually saw the church's mission statement, Living Proof of a Loving God to a Watching World.
Pastor Morgan married Pat and me on April 18, 1992. The teaching of the Bible by Pastor Morgan, the friendly staff, and the members of Sagemont Church all reminded me of the good things that happened when I included God in my life. I moved from California to Texas. God had called Pat's husband to heaven, bringing us together and being married. The tremendous successes of my companies and being close to my family were answers to my prayers and proved that God knew me.
I do not know why I was having difficulty in accepting God as my Lord and Savior, but I was. I struggled to find answers. Was it because my father died early, I was resentful and I couldn't call anyone Father? Was it because I was older? I prayed daily for God's help.
In 1998, we purchased a condominium in Mission Viejo, CA to escape the Texas summers. I remembered when I lived there before that a young man and woman knocked on my door and told me they were opening a church nearby and asked if I would attend. They were Kay and Rick Warren who started Saddleback Church. Pat and I attended Saddleback Church and met Kay and Rick Warren. We saw them often at our country club and enjoyed our conversations with them.
When we joined the country club, I started playing golf with the men. One day after golf a couple of guys invited me to join them in a private room to avoid the drinking and language in the men's locker room. One was a recently retired preacher who had started a church and was pastor for 50 years. The other was a financial advisor who was on Saddleback Church's financial team. They became good friends and frequently used God's name and Bible verses in our conversations. I closely watched them and saw that they treated others with love and respect. It was clear to me that God was using them to help me make a decision. I believed that I was living a life that pleased God but was extremely frustrated that I couldn't make the decision to accept him as my Lord and Savior. Was I too old? Was I worthy? Why?
On May 15, 2005, I did my regular routine of having lunch after attending Sagemont Church. After taking Pat home, I would drive to the Pearland post office to get mail from our box. There was a place that overlooked the entire parking lot where I could stand and sort the mail. My car was the only one in the lot. I sorted the mail and started out the door. A beautiful black lady, kind of a grandmother type with a small little girl, maybe five or six years old, had her arm up on the door stopping me from leaving. She asked me, "Do you accept Jesus Christ as your Lord and Savior. I said yes and pushed on the door to leave. She said, "NO, you have to say it." I said, "I accept the Lord as my Savior." I asked who she was and she said, "I'm Minister Brown." I asked where she was from and she said around League City. She handed me a small card with some pictures on it but no name or address. Immediately a strange feeling came over me and I knew that something very special had just happened to me. God had sent an angel to help me get over whatever was keeping me from accepting HIM as my Lord and Savior.
The next several days I used the internet to search for Minister Brown without success. I could not find her. She was proof that God was alive, HE knew me and loved me. Pat and I continued to attend Sagemont Church and Saddleback Church, learning more about God and the love he offers everyone, young or old. One Sunday at Saddleback Church I finally made the decision. I felt God's presence in a powerful way. I filled out one of the cards from the seat in front of me and checked the box that said "I want to accept God as my Lord and Savior." I showed the card to Pat and she smiled with a shocked look on her face.
It took a lot of time to make the decision and now I was happy and anxious to be baptized. I really wanted Pastor John Morgan to baptize me but my excitement wouldn't allow me to wait. The next morning I called Rick Warren's office to ask if he would baptize me. I was told that Rick rarely baptizes, sometimes on Easter. Okay, I'll wait until we go to Texas in a few months. Two days later Rick Warren's secretary called me and said Rick would be baptizing in two weeks. If I wanted to avoid waiting, I could come to the church, sign up and receive a shirt and an information sheet, which I did.
On March 28, 2009, Pat and I arrived at the church early and were surprised by the large number of people who were there to be baptized. People were almost pushing and shoving, positioning to get in line. It was absolutely an amazing event. I was number five of over 1,000 Rick Warren baptized that day, ending after 11 pm at night. It was an amazing and blessed day in my life. Yes, God loves me no matter my age or my sins. My long struggle was over.
I knew Pastor Morgan and his family would be excited for me, and I waited until we returned to Texas to tell them. They were extremely happy for me and he invited me to share my story with the entire staff. He asked me to speak at an outdoor event at The Cross to tell how Living Proof of A Loving God to a Watching World really works. My love for God has increased and I've learned to live a life with God every day and to share my story with others. God is good. I give thanks to God daily for the pastors and church members of Sagemont Church and Saddleback Church. They showed me how people who love God treat others.
I'm grateful for my wife Pat for loving me and showing me how a believer in the Lord should be and for taking me to Sagemont Church and introducing me to Pastor Morgan and his family.
I'm thankful for my parents, sister and brothers, my nieces, great nieces and great nephews, all of my relatives and many friends. I'm thankful for members of Sagemont Church and Saddleback Church who showed me how to love God and live as HE says. I am Living Proof of a Loving God.