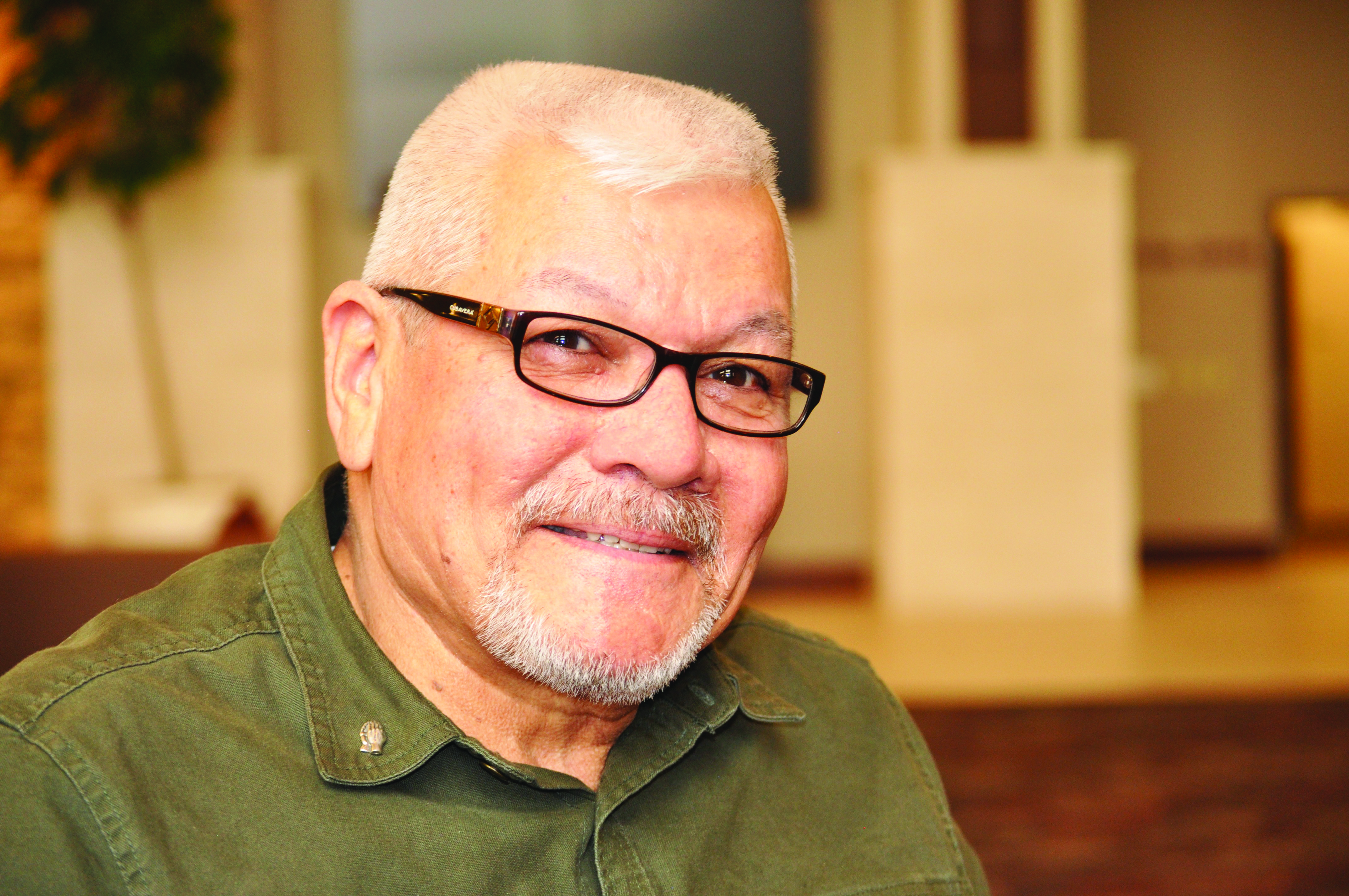 "God still performs miracles" are the words uttered by Tony Ramos, a new member of Sagemont Church. Tony is no stranger to Christianity. He grew up in a Christian home, led by a mother who Tony reveals is quite the praise and prayer warrior! Tony has a sweet video clip on his phone of his 86-year-old mother while she was recently hospitalized; despite doctors' orders, she continually removed the braces placed on her frail arms so she could lift them to the Lord in praise and prayer! At one point, she was holding one arm up by the other in praise. I immediately thought of what the scene might have looked like when people were helping Moses hold his arms up. A great reminder to us all… battles are won when we lift up the Lord of our lives! It is a sight that certainly melted my heart!
In addition to his wonderful mother he is married to the love of his life and mother of their four grown children, Martina. She, too, has an incredible heart for God and caring for God's people. Tony mentioned the numerous ways she serves and helps others and looks for ways in which to show the love of God to others. Despite having these amazing godly examples in his life and serving others (which his mother instilled in him years ago), Tony claims he knew more about God than to truly know him personally; he simply failed to realize it at the time!
In 2014 Tony was the recipient of a surprise cancer diagnosis, and yet, he wasn't exactly taken aback. In fact, his exact words were, "It was God's battle, not mine… I just didn't know God!" Up until this time, despite invitations from his family, he hadn't attended church. He was too busy fishing… or hunting… or going to a sports bar. But he realized- he needed to give God his time, and that is when he began. He started faithfully attending church but admits he had a lot of questions that never seemed to get answered. He developed a hunger for the Word and in addition to regular church attendance, he added apps on his phone to keep him motivated to learn scripture. He also began listening to Dr. Charles Stanley, who he said answered many questions and also raised more!
After a while, Tony began questioning God if he was in the right place. There was an obvious difference between the teachings of his church and Dr. Stanley's teachings. He couldn't quite place his finger on it, but he knew he was missing something. He knew he wanted the Bible to be a priority and he was definitely uncomfortable calling the church pastor "Father." Yet, he prevailed - that is, until God placed an 18-wheeler detour in his path!
This is where the story of him and Sagemont Church come into play. Tony had been on his way to church one Sunday morning and forgot his offering so he stopped at the Chase Bank near the church. He ran upon an 18-wheeler blocking his lane - which would not have been a problem had he taken his motorcycle, which he often does on great weather days. Unfortunately, it was getting late and punctuality is important to him. Thus, after having lived in the Sagemont area for decades he accessed other routes and remembered the church parking lot cut-through.
So that is exactly what he intended to do, make a detour! But wouldn't you know it? Those incessantly kind and loving "golf cart people" spotted him and invited him to our church! And low and behold, who was right on time for the 9:30 service? Yep, you guessed it! He decided that due to their kindness, and his deeper longing, he would check it out. He wasn't exactly holding his breath though! He was shown where to park and was led by Sagemont's famous "VIP" team. The first thing he noticed was the level of kindness; everyone was friendly and welcoming! The second thing he noticed was that everywhere he turned, he saw people with Bibles and he couldn't explain why, but there was a prevailing spirit of joy! The lack of joy is something he noticed in many people who claim to know Christ and that deeply disturbed him. But he could feel it, sense it when he walked into our church. Glory, Glory, Hallelujah! Isn't that how we as the church want to welcome one another? With a spirit of joy and thanksgiving? Absolutely! Great job, Sagemont Church, for living our church motto, to be Living Proof of a Loving God to a Watching World! People truly are always watching!
Tony quoted one of his sons when he said some people (what we as the church often refer to as lukewarm Christians) are just spinning their tires as if in mud. People often get stuck in a rut, not trusting God and not going anywhere, but at Sagemont, it is different. There are challenges and opportunities to grow spiritually. Tony loves that about our church! At the end of the service, as Brother John gave the usual invitation and altar call, Tony, so moved, left his seat and came down. Shortly thereafter Tony was baptized by immersion and continues to attend regularly.
Tony mentioned that his friends, family and coworkers have noticed a change within him. And he also seems to have more "power." He is sharing openly and witnessing to others. A couple of weeks ago, Tony went with a friend to minister at a local rehab facility where he happened upon some men of Goliath proportions! While sitting down with an incredibly angry and argumentative man (the man's friends stood behind him jeering him on while laughing at Tony), words came to Tony like never before. He asked the man a simple question… who did you cry out to before you came here? The man went white as a sheet and instantly fell to his knees and asked God for forgiveness. The room became deadly silent. The man's friends behind him were bewildered, the guards thought something had happened to him and people yelled, "What did you say to him?" And Tony knew - it wasn't anything he said to the man, it was what God spoke through him, to the man. At the beginning of our interview Tony mentioned he had once heard that a man is not a man unless he drops to his knees in prayer. Despite the size of this man, he became a "man," a godly man, the day he dropped to his knees and sought repentance. And guess what? Others were watching which facilitated change and growth. His friend who brought him to minister at the rehab has since been to Sagemont and has even brought his own family.
John 14:15 says, "If you love me, keep my commands." Tony Ramos, is indeed doing just that! He has shifted his priorities to now include God. He has shifted his religion by works into a relationship with Jesus Who performs works out of love. Tony says, "Don't put your eyes on anything but God!" And that is scriptural… "Do not turn to the right nor the left; turn your foot from evil." Proverbs 4:27. We all know that the opposite of evil is good and God is as good as it gets! He realizes that what we do today has eternal consequences albeit positive or negative. It is our choice. He is setting an example for his own family on how a man of God should live- faithfully getting into the Word, praising and worshipping the Lord, attending church regularly and giving and serving within the community. He has no desire to "go back" to living the way he had been living. He wasn't living badly, he just wasn't living life to its fullest potential by making the Lord Lord of his life!
He admits he wouldn't change a thing - not for all the silver and gold in the world. He has the thankfulness of a regenerate sinner. Someone who knows how he deserves nothing and yet has been given absolutely everything! He boasts about how incredibly beautiful his wife and children are and how thankful he is to God for them! Let us not forget the eight grandchildren the Lord has given him as well. His eyes absolutely light up when he tells stories about them! His health and remission of cancer are yet another blessing. The port for chemotherapy was removed December 12, 2017! He also has worked in management for a local steel company for twenty-eight years! When asked when he will retire, he jokingly blames his wife saying, "she still wants to collect a paycheck." But the reality is that he loves his job and the people who work with and for him!
Tony is thankful for our church - for the cross that is a beacon of hope to our city, for the empty tomb that is a reminder of God's grace, and one of his favorites, the Divine Servant statue, which is a reminder of his life aspiration - to be Living Proof, of a Loving God, to a Watching World. Wow, Tony, you fit right in! Welcome, welcome, welcome to Sagemont Church! We are honored to have you with us!