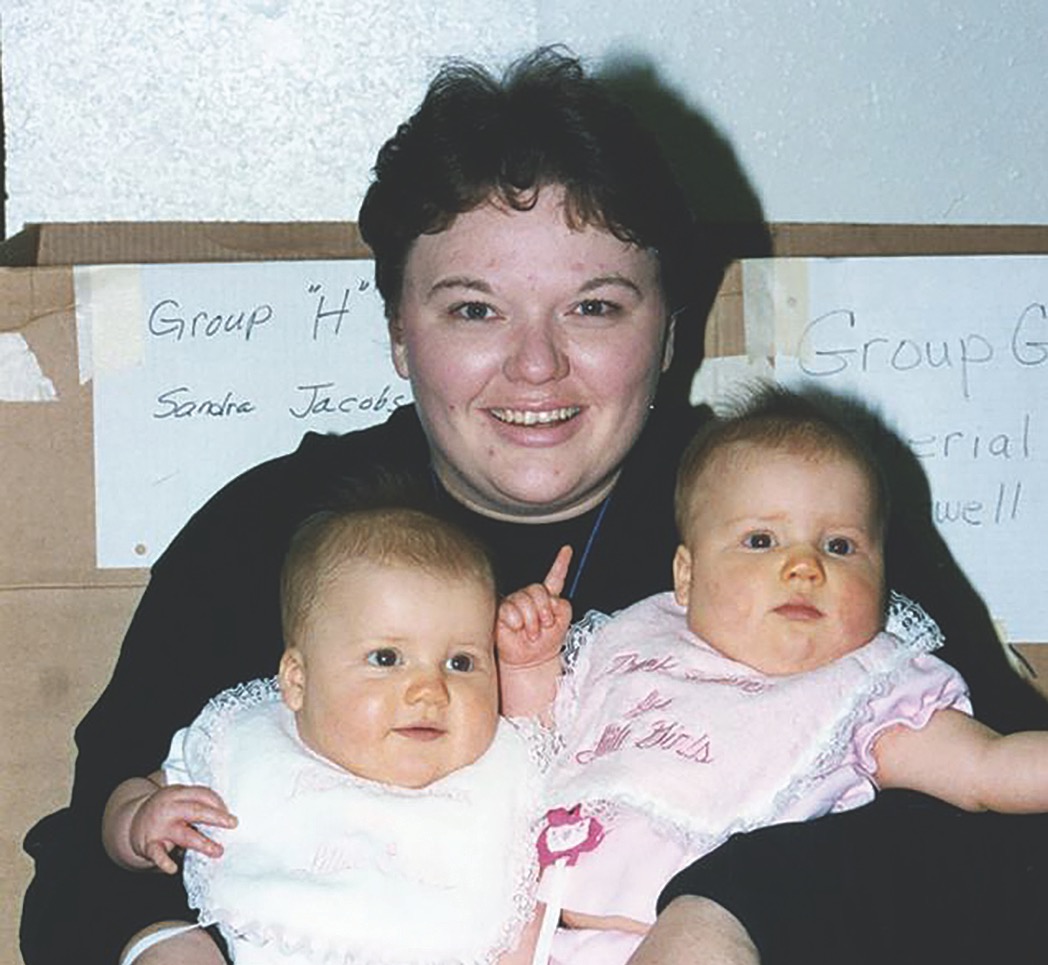 Martha, from the New Testament, gets a bad rap, especially when Jesus answered her complaint about her sister not helping with a sentence beginning with her name being spoken twice: "Martha, Martha you are worried and upset about many things" (Luke 10:41). Now, 2,000 years later, many Christian women relate more with this strong, determined, hard-working woman than any other woman mentioned in the Bible. Facts from Luke 10 and John 11 and 12 state that Martha was sister to Lazarus and Mary - most likely she was the oldest. In place of their deceased parents, Martha was the caretaker of her entire family who carried the responsibility of all household affairs in her home. Ironically, Martha's name means "Lady Boss," but most importantly, she was a personal friend of Jesus Christ.
Longtime Sagemont member, Shawnita Watts, did not hesitate when she stated, "I am Martha!" She shared a very "Martha" time in her life when she was 31 years old, "My nieces were born in May 1994 and weighed 5 lbs., 13 oz. and 5 lbs., 14 oz. They got to come home within three days, but my sister, Kristy, went right back to Texas Women's Hospital because she had a severe infection. Not only that, the day the girls were born, my Dad had a heart attack and drove himself to the hospital. Two days later he had to have quadruple bypass! So at one point Kristy was at Texas Women's Hospital, Dad was at Clear Lake Hospital, my Mom was in her wheelchair and I was trying to take care of everybody!" She chuckled recalling the memory of that extremely stressful period in her life. "Luckily, Dad got to come home four days after his open heart surgery but he couldn't do much. So he would sit in his recliner and I would put a pillow on his legs and a baby on the pillow. So Dad at least helped with one of the babies." Kristy, still weak and requiring daily IV therapy, was finally released from the hospital after two weeks, but she still needed Shawnita's help with her newborntwins.
Shawnita was born in August 1962 in Jacksonville, Illinois to Dennis and Wanita Watts. Kristy was born five years later. Denniswas a bi-vocational pastor for Southern and Independent Baptist churches for nearly 40 years.
Even though the Watts family nucleus consisted of only four members, Shawnita was quick to point out that she has two cousins whom she calls her brothers. "My mom's sister, Judi, married my dad's brother, Jerry, in 1968 and they had two sons, Lee and Chad. Genetically we are closer than just cousins because we share the exact same gene pool and same set of grandparents. Chad looks a lot like me. We were always raised as siblings. For many years they lived across the street from us. In fact, Kristy briefly lived with them and both Lee and Chad lived with us at different times over the years." Growing up in both Watts' households, Shawnita described their childhood as being like a Norman Rockwell childhood because they were blessed to be in a family that was rich in love. Despite the distance, Shawnita remains close with the her "brothers" in Kentucky and Uncle Jerry in Georgia who is now a widower.
While baking chocolate chip cookies with her mom in May of 1974, Wanita "outright" asked her nearly 12-year-old daughter, "Have you ever asked Christ to be your Savior?" Shawnita had to answer "No." She explained, "I think salvation as a pastor's child was something that I really struggled with because I didn't have that big dramatic conversion story that I saw others have at church. We loved Jesus at my house. In fact, I went to church nine months before I was born! I think it took me that long to understand that no matter if it is one of the 'big' sins or if it is denying Christ, sin is sin." Together they knelt at the foot of her bed and Wanita led her daughter to give her heart to Christ. Shawnita was baptized by the senior pastor, L. E. Hutchison soon afterward.
Eleven years later, in 1985, the Watts family moved to Houston after the Christian school closed where Shawnita worked as a first-time teacher and Dennis was acting principal. Not long after arriving in League City, Shawnita was hired as a teacher at Bay Area Christian School. Later, at age 26, Shawnita completed her paramedic studies June 1988 at the San Jacinto College, Central Campus. Shawnita explained, "I started as a Paramedic 1 for the City of La Porte EMS in October 1988, and after five years as a Captain, retired December 2018. That was 30 years!"
Shawnita joined Sagemont Church September 1988 when she was invited by Tammy Martin to attend the singles group with her. She pointed out, "I got involved in choir right away. Choir was a big draw for me. I'm not a soloist but I sing alto and am a good solid choir member. Bill Cole had been there just a few months when I first came. It was back when he had dark hair!"In 1999 Shawnita joined New Hope Baptist Church where her parents attended. New Hope needed help with their music program so it was no surprise when Shawnita, then age 37, volunteered to help. "I started on the organ then moved to keyboard and then became their pianist. I even worked with the choir when they didn't have a choir director."She returned to Sagemont Church in 2006 and immediately returned to the alto section of the choir.
In 1997, Shawnita recalled that it was a very trying year because not only did she walk alongside her sister during her divorce but was also there when her three-year-old nieces were diagnosed with profound Autism, specifically Pervasive Development Disorder Spectrum.
Shawnita's eyes lit up when she spoke of her girls. "They call me 'Sha-da'. We don't know why they do that but that is one of the few things they say. They are non-verbal but every once in a great while one of them will say something. After we will pick ourselves up off the floor, we won't hear anything for three or four months!" One thing everyone knows about Mykayla and Maegan is that they LOVE to eat at Chick-fil-A. Shawnita laughed, "If it wasn't for Chick-fil-A I don't know what we would do! In fact, Mykayla is so dedicated to Chick-fil-A that on Sundays when we have to eat at another restaurant she will wear her Chick-fil-A shirt in protest!"
Shawnita's family faced many health problems starting in 1986, when her 48-year-old mother was officially diagnosed with Multiple Sclerosis (MS) after knowing something was wrong for several years. Over the next 16 years, Shawnita was at her mother's side during her steady deterioration from walking difficulties to being wheelchair bound. By 2000, Shawnita gave up her apartment to move in with her parents, sister and nieces in their League City home to help take care of her mother, "A year after moving in with them, Mom needed total care and couldn't move herself around at all so she went to the nursing home. Nine months later, I got a call from the nursing home at 4:30 p.m., and Mom passed away a few hours later from a stroke on February 9, 2002 at the age of 64."
Three months after their mother passed away Kristy's leg went numb. Shawnita shook her head sadly, "Kristy was only 35 and the girls were eight-years-old at the time, but she knew what it was. She went right to the neurologist, had an MRI, was diagnosed with MS and immediately started on medication. She had to rest more than most people would but other than that she did very well."
A year and a half after her mom passed, her Dad remarried. Shawnita laughed, "Nancy was a woman in his church but he met her at a beauty parlor. He had gone to take another woman flowers and saw Nancy there. At the time he was a pastor of Little York Baptist Church." Eight years later at the age of 72, Dennis, passed away on December 9, 2011.
For several weeks in the summer of 2013 Shawnita noticed that Kristy was not processing things right. Then one night at the end of June, as the sisters were grooming the girls' service dog, a big German Shepherd named Rhondi, Shawnita handed Kristy the plug to the vacuum cleaner and told her to plug it in. Shawnita shook her head sadly, "Kristy took it and just looked at it, but she didn't know what to do with it. When she didn't know that the plug was for the vacuum cleaner, I knew we had a big problem. I told her to take a shower and then I took her to the hospital. It was the 24th of June and she never came home. She went from the hospital to the nursing home and passed away September 2, 2013 at the age of 46."
Unfortunately, Kristy passed away suddenly just hours before her nieces' guardianship papers were going to be officially signed in Probate Court in Galveston County by Judge Kim Sullivan. Shawnita explained, "Our court date was September 3, and Kristy passed away on September 2! I called the girls' attorney that morning and asked, 'What do we do now? My sister died!' She said, 'I don't know, let me call the judge.' Judge Sullivan told the attorney that the paperwork was signed and just sitting on her desk and that I should come in. That day, not only did I get guardianship of the girls but she also transferred Kristy's bond to me so it ended up costing me a total of $24 for the guardianship paperwork!"
Guardianship was just the first obstacle because Shawnita still worked full-time as a paramedic and the girls needed full-time care at home. Shawnita initially had help from her Aunt Judi who came to stay and help with the girls, but she had to return to Georgia after two-and-a-half months. Those months of uncertainty were trying, but despite the isolation, her faith in a loving God never wavered. Every Sunday, Aunt Judi and Shawnita watched Sagemont's services online to hear Founding Pastor, Dr. John Morgan. Shawnita shared,"Every week, during all of our stress, Brother John would say from the pulpit, 'God always has a plan.'" She became emotional, "That reminder sustained me because I didn't know what that plan was but I knew God had one for the girls and me. I am a long-range planner, so this time of my life was really difficult for me not knowing what was going to happen. It would not have been my plan for my sister to pass away and for me to have to care for her children. She would have wanted to do that."
As the days passed, Shawnita had difficulty navigating the process of finding a permanent place for the girls to stay. "I got really discouraged when they told me this process could take four or five years to get them into a residential program. So I just brought it before God. I prayed, 'LORD, we need help! We need your guidance'." The answer to her prayers came much sooner than expected because what usually took years God accomplished in just eleven weeks! This was a huge blessing because Shawnita only had one week left on her leave of absence from work.
The solution was Forgotten Angels, a local Christian Organization. There was a problem. Shawnita was told that the girls could not live in the same house. Again she brought the matter before the Lord. When she actually toured the facility, she was told that a second room had just opened up so now the girls could be across the hallway from each other in the same house. Shawnita smiled,"They told me, 'This never happens!' I smiled and stated, 'That maybe true, but that's who my God is.'"
Although being a single woman and the caretaker for her entire family was not her original plan, it was God's plan for her life. Shawnita smiled,"I have never been engaged or married. I think God started preparing me early because He knew that I was needed to help my family. If I had a husband and children of my own, I could not have been there all those years when my mom and sister were sick. He also had me prepared to step into the gap with my nieces."
She laughed,"I have lived a very fulfilled life. For example, now I can pick up at the last minute and join a mission trip! I can pack a bag and say, 'Yeah! I'll be there.' Or if someone needs something I am able to step in and help." At Sagemont Church, Shawnita continues to serve the Lord as a faithful choir member and volunteers on the Emergency Response Team (ERT) on Wednesday nights and during special events. She is a leader in Sagemont Women's Lifetouch Bible Study for SpecialTouch, a group for women who have special needs loved ones in their lives. For the last two years she taught the Summer Session for Women's Bible Study. She has also been on several mission trips to Kenya, Africa. Shawnita also went on to earn her Masters of Theology in 2015 and then her Doctorate of Theology just two years later from Christian Bible College.
Shawnita stated, "I have always equated myself with Martha from the Bible. I am the person who is going to be cooking for you. I am going to be killing myself cleaning the house for your arrival. I have to be up, working and doing. In fact, my car points to Sagemont almost everyday. It's my mission in life to help." Like Martha, not only does Shawnita have a servant's heart for her family. This "Lady Boss" has most importantly dedicated her life to serving her personal friend, Jesus Christ.